---
The BTC Ring
Leave Those Diamonds in the Rough
The only bitcoin ring that marries real value and design. Don't store your value in a rock, store it in a block.
Design a Ring
Check How Much You're Loved
---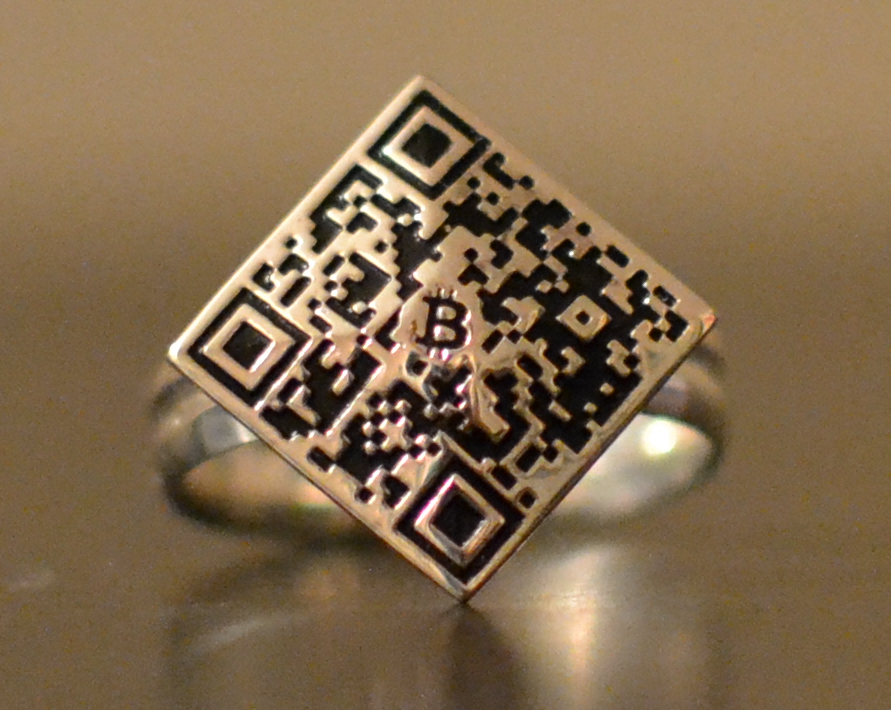 ---
Replacability
Just because something has value doesn't mean that all should be lost when the physical ring is misplaced. The real value of the BTC ring lies in the Blockchain.
Value
You and your friends won't need a jeweler to tell you exactly how much this ring is worth.
Decoupling Design
Beautiful rings come and go with the times but the backing of these rings should not. The BTC ring can be reprinted to keep up with the latest styles.
Re-upping
As salaries increase, you can upgrade the BTC ring without going to the jeweler.
Contract
Splitting the private key allows mutual decisions about what to do with the BTC in the future.
Bling
Diamonds are shiny, but then your friends don't know how much was spent on you. With a BTC ring, the bling is in the code.
Support Bitcoin Mining not Diamond Mining
---
BTC Ring Value and "Blockchain Inscriptions"
See how much you are really cared for. Lookup the value of your BTC ring using our android app which can be easily installed by clicking on the link from your mobile phone (google play store coming soon!). Our app also reads "blockchain inscriptions" associated with your special address which have been immortalized in the blockchain as well as funny quips based on how much value is at the address.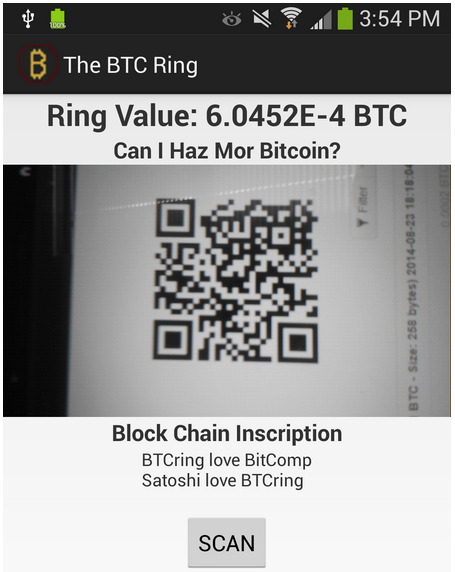 Personalized "blockchain inscriptions" not only make the ring more sentimental, but also prevent "relationship double spends" (e.g. Bob can't give a loaded up ring with a blockchain inscription "Bob Loves Alice" to a girl named Cindy). To inscribe messages at your special address, simply send some Bitcoin from your special address to the address that is the BASE58 encoding of your message (plus the header and checksum). The tools at Messages From The Mines can help decode messages (we do not touch your private keys).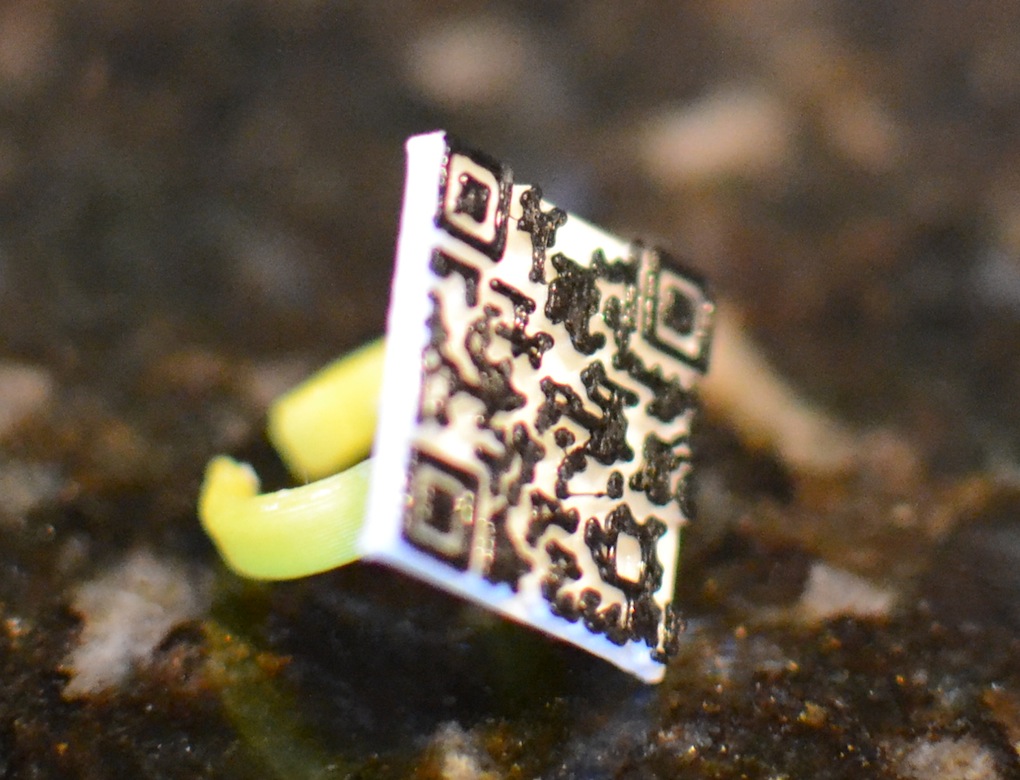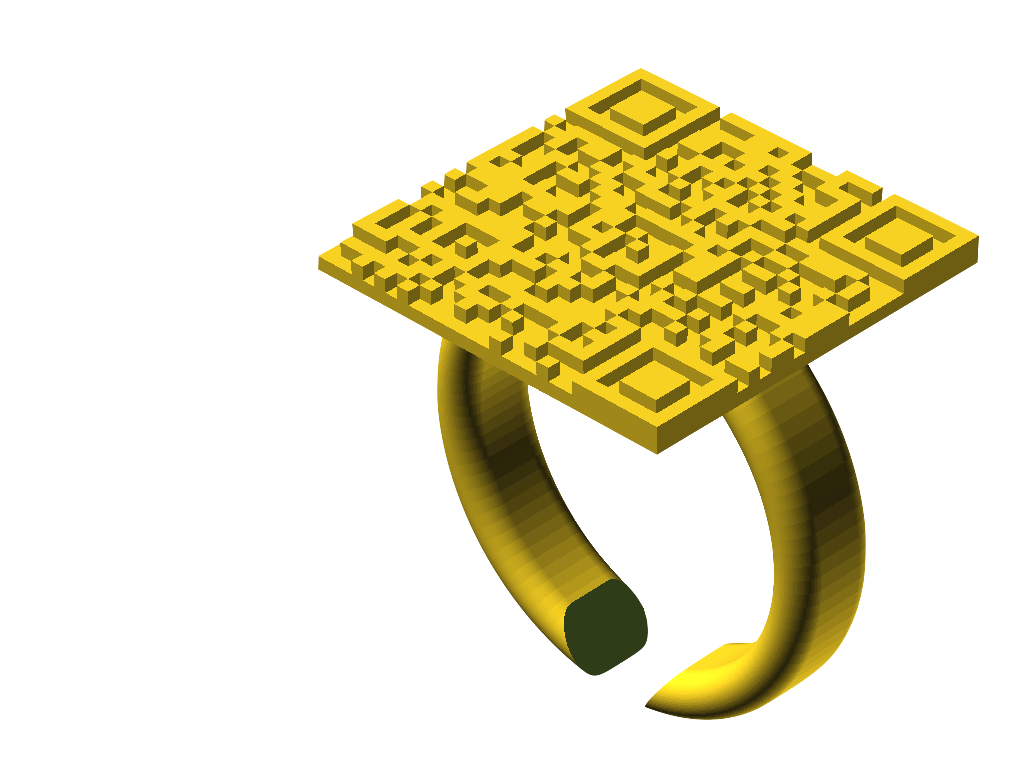 ---
Design Your Ring Today
To obtain a 3D printer file of your special BTC ring simply download this OpenSCAD file and open it in OpenSCAD. Change the first line to reflect the Bitcoin address you would like on the ring and then simply build and export to create the .stl file for 3D printing your special components. We recommend the FormLabs printer for its excellent precision and proximity to the MIT campus.
---
Contact
In the meantime, check out what is being said about thebtcring.com right now